IASO MATERNITY AND PEDIATRICS HOSPITAL
The Need
IASO Maternity and Pediatrics Hospital, one of the most contemporary hospitals in Greece, offers the highest-level medical services, in a modern, aesthetically pleasing environment. Wanting to further improve the conditions of hospitalization and the sense of hospitality, IASO decided to commission E²Aroma to design an easily recognizable fragrance that creates a sense of familiarity with the space.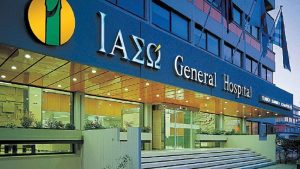 Design
E²Aroma's perfumers' team, designed and developed exclusive scent identity proposals, having as its main focus the creation of a feeling of pleasant stay and familiarity for both the patients and visitors of the clinic. After extended sampling of our proposals, the "IASO Maternity and Pediatrics" scent identity was chosen.
Implementation
IASO's scent identity is currently diffused in all public areas of both the Maternity and Pediatrics Clinics, with specially designed E²Aroma's digital devices.